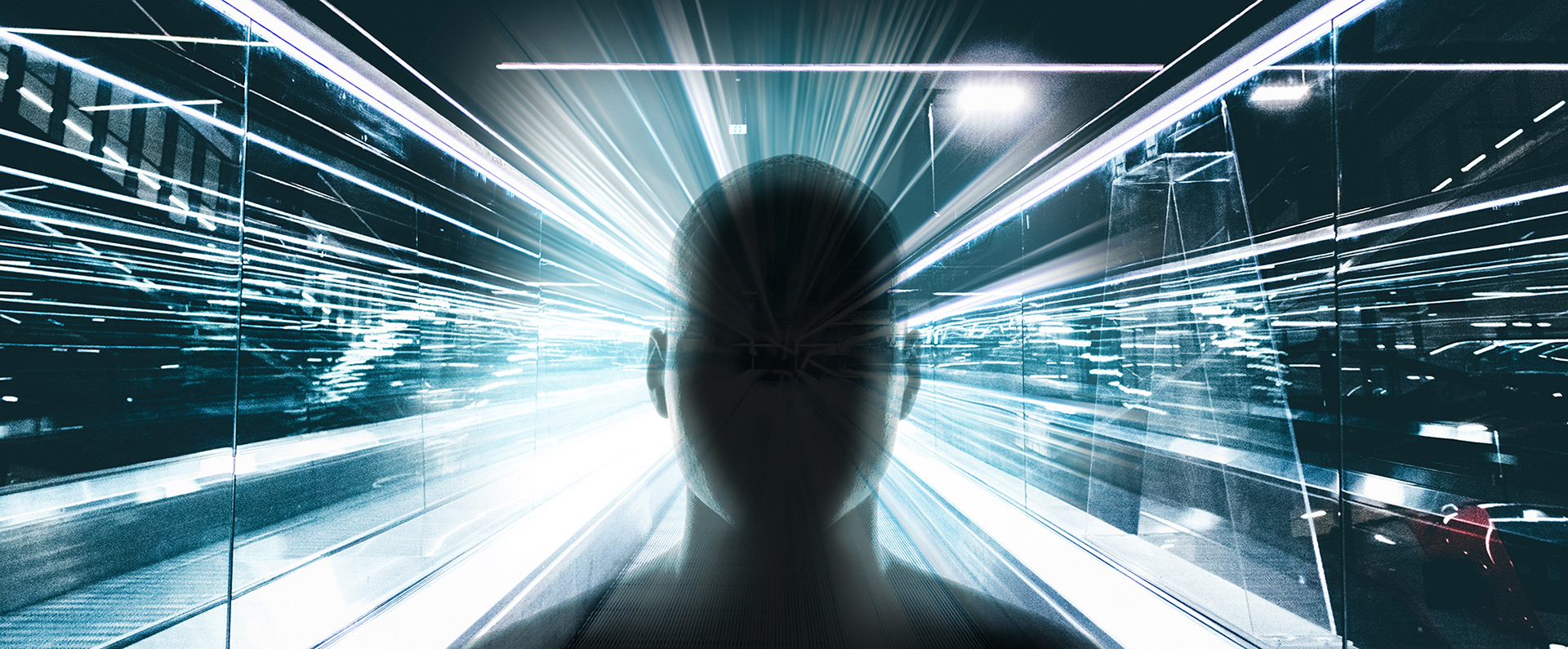 Digital Transformation, or DX, is often misunderstood as just "going digital", in terms of having a website, a Social Media account or shopping online. It's sure part of what fits into the DX category, but it only scratches the surface. The true impact is much much broader. DX is driven by technology hubs, some world-renowned tech companies — and by consumers demanding access and convenience. We now see startups outpacing legacy companies in ways never seen before. Here some examples
· AirbnB started in 2007 and is now worth $38 billion without owning a single hotel room
· Uber started in 2009 and is valued at $68 billion and even doesn't own its cars
· Stripe is only 7 lines of code and worth $20 billion
DX is not necessarily about digital technology per se, but about the fact that technology allows companies today to solve their traditional problems in new ways. It's not about "thinking outside the box", it's "let's blow up the box and create a new one". Digitization is also about the extent to which firms and industries invest in and use digital. And this is where there is lot of room to grow — and money on the table. 
A McKinsey study predicts for Europe alone:
Europe can add €2.5 trillion to GDP in 2025, boosting GDP growth by 1 percent a year over the next decade.
Innovation vs Digital Transformation
The transformation stage means that digital usages inherently enable new types of innovation and creativity in a particular domain, rather than simply enhance and support traditional methods
Digital Transformation is:

· When I shop for groceries at Amazon — and they deliver to my doorsteps
· When I us an app to book a vacation home on AirBnb instead of looking up a travel agent or call a hotel
· When I don't have to look for a taxi at night but simply order an Uber
· When my smart speaker adjust the temperature in my house as soon as I get up in the morning — and plays my favorite music
· When my car lets me know if an oil change is due or the tire pressure is low
· When my smart watch makes food recommendations based on my health metrics and activities (hey dude, you need more protein!)
· When my bank sends me investment suggestions based on my financial performance

The state of DX in Europe: A stunning amount of unused potential
A recent McKinsey report shows how companies in Europe are falling behind in comparison with other nations, primarily the United States — but mostly China:
"Today, Europe operates at only an estimated 12 percent of its digital potential, compared with the United States' 18 percent. In addition, there is enormous variation between Europe's countries: while France operates at 12 percent of its digital potential, Germany is at 10 percent, and the United Kingdom is at 17 percent." (McKinsey)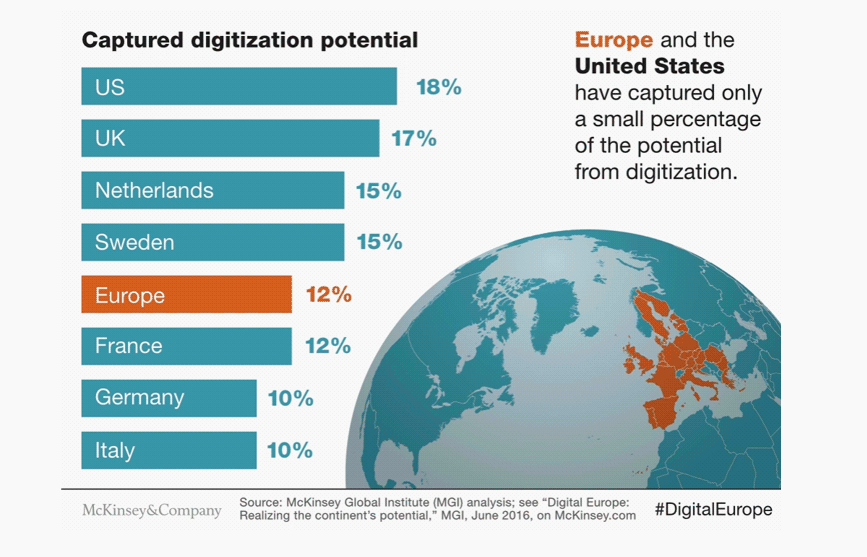 Where business leaders need to lead — and governments need to be active
Companies must assess to what extent digital matters to their customer base and how to adapt their business model. A nicer taxi is not what consumers were asking for, they asked for easy access over their phone, and instant availability, and Uber delivered. This shift also requires to adapt their organizations, digitize their operations, and promote open innovation along the way.
Governments need to be involved too by providing the infrastructure: removing restrictions to capital and data flows, and addressing issues surrounding data protection and privacy vs convenience. And ultimately, they will have to manage the social and economic impact brought by digitization.
Where do we fit in the process of transformation as a brand consulting firm?
Even though the mechanics in the Digital Age differ vastly from the analog world or the digital realm of the 20th century, the basic rules and processes of B2C marketing remain the same — Detect (problem), define (strategy), design (solution) and deliver (product). This is where we come in the game. User Experience (UX) and User Interface (UI) design are important aspects of sales transitions now. Communications are no longer one-way streets but rather an interactive conversation. Traditional advertising has been replaced by influencer recommendations and experiential marketing. But still, besides data mining and smart engineering, it's the carefully crafted message that touches people's hearts and minds.
We generally differentiate between 3 fundamental modules: DX Consulting, Brand Consulting and Brand Development. They were designed to complement each other for utmost firepower, but each module can also be booked on it's own to deliver results.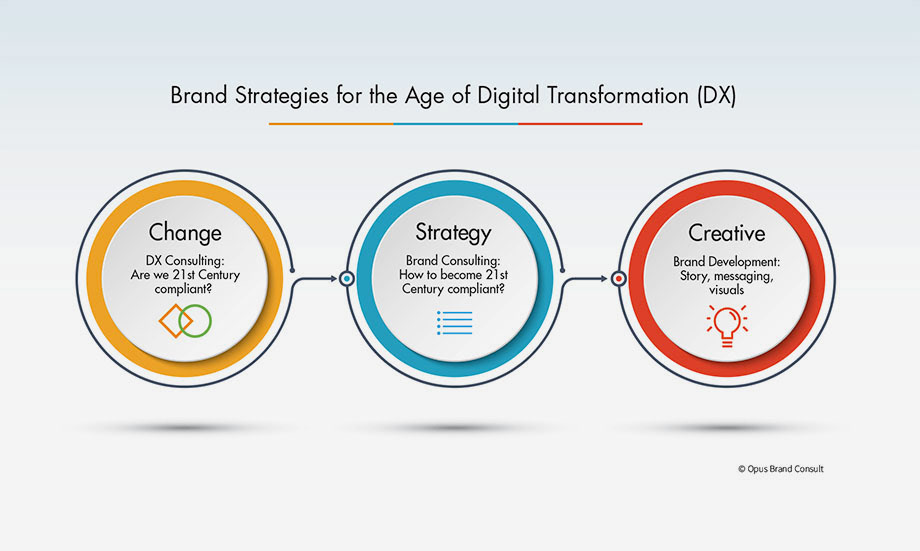 The same applies to B2B: We see much more focus on brand experiences and users as brand ambassadors. Analytics software allows us to tackle target audiences with laser sharp precision and respond to customers' demands in real time. Automation removes tedious repetitive tasks and leaves room for more in depth consulting which we already see in the banking sector. Instead of operating a cold uninviting branch with tellers behind glass windows, companies like Capital One started to introduce cafés with lounges and shared work spaces where people can gather and interact. Here design is imperative to provide a welcoming and friendly atmosphere and not just a poster on the wall. The design process and application are not confined to the package anymore, or the decor, now with its expanded potential as Brand Experience Design, it stretches across the full spectrum of customer interaction, from top to bottom, and from the inside to the outside.
Let's get to work.
Opus. Brand Consult (Los Angeles, Munich, Paris) We are Creative Business Consultants. We analyze data and use it to develop ideas that solve problems. As a strategic brand consultancy and creative firm, Opus opens new doors and helps businesses grow in the process of Digital Transformation. +1.213.446.7986 
OpusBrandConsult.com
 (Source quotes: McKinsey Global Institute)